What We Do
Quality the right choice, from our treasure troves to your home...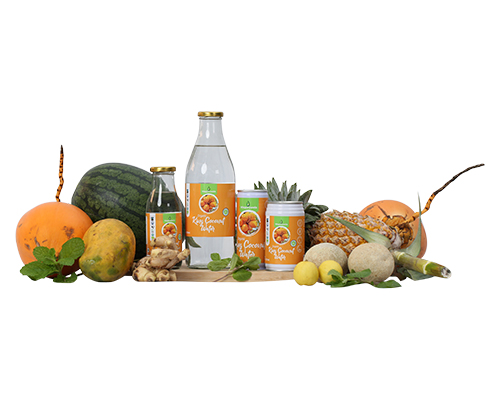 Organic King Coconut Water
Waguruwela Organic King Coconut water process from fresh, selected Organic King Coconut harvest from organic lands without adding harmful chemical fertilizers, pesticide and weedicides. Organic King Coconuts selected, washed and liquid inside the fruit were collected through sharp cut. During series of production process king coconut water blend with following natural flavours and then sterilize and pack either metal cans or glass bottles according to customer perception. Waguruwela Organic king coconut water blend with different natural flavours will give you an amazing experience.
Lemongrass – When we mix king coconut water with lemongrass it is make citrusy with a lemony flavor, also its make present aroma like lemon and mint. Let's take it.
Ginger – There is no flavor in the world quite like that of ginger. It is hot, zesty and biting yet sweet and warm. Let that natural Ginger taste take over your taste buds and feel it.
Cinnamon – Smell it before taste it king Coconut water with Cinnamon, golden refreshment take you to heaven.
Coffee – Coffee has long history back and people enjoy its taste and aroma all over the world. We blend it with king coconut water. Let's feel it
Tea – Another ancient drink like coffee, refreshing your body and make you feel more energetic during the day.
Lime – King coconut water with lime, when citrus taste touch your taste buds along with coconut water your whole body will refresh. It is amazing.
Mint – Yes, sometimes winter is coming in cans. Let's try it king coconut water with mint.
Pineapple - Surprise your taste buds with Pineapple flavoured king coconut water. Taste it once you will love it forever.
Watermelon – Let that natural watermelon taste take over your taste buds with Waguruwela king coconut water with watermelon.
The goodness of king coconut water couples with a unique taste of watermelon.
Anoda/ Soursop – king coconut water and Soursop are a match made in heaven. You will definitely love it.
Wood apple – Let your taste buds to spend some times with Waguruwela wood apple king coconut water, you will love it.
Passion fruit – Just try it king coconut water with Passion fruits, it is make you passionate indeed.
Cucumber – Let's realize the coolest way to make you refresh with Waguruwela Cucumber king coconut water. It is take you another level of chilling.
Available Sizes:
200 ml
250 ml
300 ml
325 ml
500 ml
750 ml
1 l
| | |
| --- | --- |
| Serving Size: 100 mg | |
| Calories | 90 kcal |
| Total Fat | 0 g |
| Saturated fat | 0 mg |
| Trans fat | 0 mg |
| Cholesterol | 0 mg |
| Sodium | 25 mg |
| Total Carbohydrate | 22 g |
| Dietary Fiber | 0 g |
| Sugar | 20 g |
| Includes Added sugar | 0 g |
| Protein | 0 g |
| Vitamin C | 5 mcg |
| Pottasium | 790 mg |
| Calcium | 790 mg |
| Phosphorus | 170 mg |
---
Organic King Coconut water one of the nature's miracle. It relieves dehydration while provide delicious, refreshing drink, and it offers impressive nutritional and health benefits. King Coconut Water rich in vitamin C and its amino-acids are composition reflect normality of fluidity of the bloodstream. King Coconut Water help digestion and metabolism also it's clear urinary path. Hard practice or heavy sweating, try Organic king coconut even in vomiting or diarrhoea it may replenish your electrolytes (sodium and potassium) and make you comfortable
---
Not containing major allergen
---
Not containing Genetically Modified ingredients
---
24 months from the date of manufactured
---
Order Now